Success at the Salon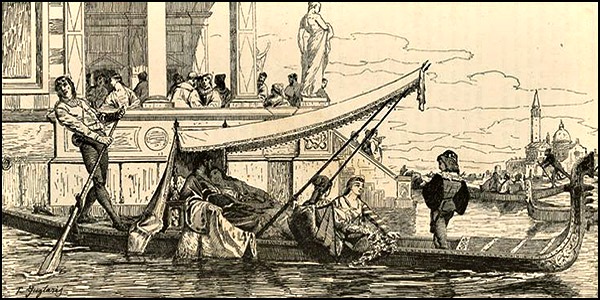 In order to maintain his foothold in the fine arts and keep both eye and hand in practice, Juglaris accepted numerous portrait commissions. This work suited his frugality as well: the willingness of patrons to voluntarily sit for him eliminated the expense of hiring live models as he continued to hone his easel skills.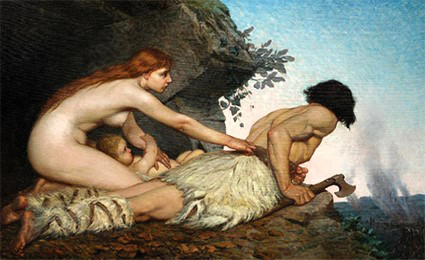 Despite his constant complaint that "my work in industrial art took all my time," Juglaris nonetheless began exhibiting regularly at the famous Paris Salon. This annual juried art exhibition, sponsored by the French government, served as a proving ground for fine artists. Among his Salon paintings were Offering to the God Lares, The Confidence, Paolo Veronese in Venice (also known as Venetian Promenade), and The Invasion, all exhibited between 1873 and 1880. His Paolo Veronese painting, commemorating the "active and even pleasure-loving life of one of the great masters of the Renaissance," received the greatest public attention and earned Juglaris the privilege of submitting future paintings to the Salon without advance juried review. But The Invasion also drew the favorable notice of critics. A photographic image of Juglaris's latest work was published in the Parisian newspaper coverage of the Salon. The Invasion depicts a prehistoric family of father, mother, and infant child taking shelter behind a rock outcropping. A well-muscled father lays prone but with an outstretched arm. With a hatchet in hand, he is poised to defend his family against any approaching enemy. However, crouching over her baby, a bare-breasted mother also reaches up to her husband's waist, urging caution and thus perhaps restraining him. Although Juglaris's palette is darker and muted in this case, it is set off by both the white and tanned pallor of exposed human flesh, as well as an aura of pinkish-rose tints at the right center of the painting, suggesting the flare of a not-so-distant conflagration set by marauding invaders. Although not as large as Paolo Veronese in Venice, The Invasion is an amply-sized work commanding attention.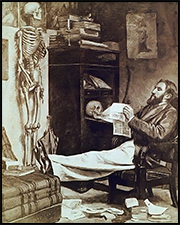 Meanwhile, amid such Paris Salon successes, Juglaris received various commissions for decorative and mural work at the Palais Garnier Opera House, the Palais Gioia, and the Theatre du Chatelet--all in Paris. Both the Palais Garnier and the Theatre du Chatelet are Paris landmarks. Indeed, in the words of architectural historian David A. Hanser the Palais Garnier, which opened in 1875, is "probably the most famous opera house in the world, a symbol of Paris like Notre Dame Cathedral, the Louvre, or the Sacre Coeur Basilica." It provided the setting for Gaston Leroux's popular novel The Phantom of the Opera (1910). Likewise, the Theatre du Chatelet is another famous Paris performance center, serving as the original venue for the Ballet Russes and the premier of major ballets and symphonic works by Igor Stravinsky, Maurice Ravel, Claude Debussy, and Erik Satie.
In 1876, Juglaris also won a competition to decorate a civic theater at a newly-constructed Mechanics Institute in Barnsley, England, north of Leeds. Glad to seize the day, he traveled to England (despite his almost complete ignorance of English) to undertake the commission. After months of Herculean effort, his decorations were unveiled to considerable acclaim. At the ball celebrating the theater's official dedication, he was immensely gratified by the sign put up by his hosts: "Honor to the painter Juglaris."