Introducing the Nude and Painting the First Lady
"The papers spoke very well of my works, in fact better than I would have thought they would, as I was a foreigner. However, harsh observations were made insofar as the exposed nudity was concerned: . . . I was in fact the first to have risked exhibiting nude figures in America, in Boston in particular. I had removed the veil of chastity and purity from Puritanism."
"I finished the portrait in seven sittings of two hours each. Mrs. Cleveland posed like a professional model. It was found by most to be a strong resemblance . . . "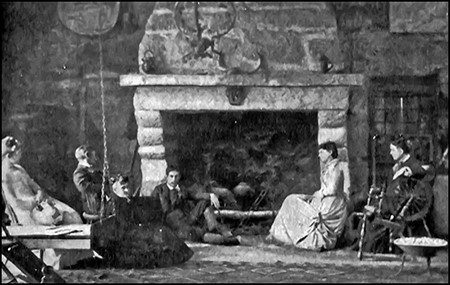 Whatever disappointment he may have felt over the Michigan Capitol commission, Juglaris continued to blaze new trails in Boston. He took particular pride in introducing the nude in Boston, a city famous for its prudery.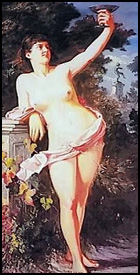 Juglaris created his first stir in 1881 with the public exhibition of his Paris Salon painting The Invasion, a large canvas with nude figures shown at the Boston Museum of Fine Arts. But Juglaris followed this up in 1886 with his unveiling of an even more commanding, solitary nude figure, entitled Mlle. Yvonne.
For the next 125 years, Mlle. Yvonne remained on display as a veritable landmark at the famous Locke-Ober's Restaurant near the Boston Commons Exciting attention and comment for decades, the Juglaris painting emerged as a tourist attraction in her own right. It became customary to drape her frame with black crepe whenever Harvard lost to Yale in their annual football match. In the late 1940s Holiday magazine published a photo of bowler-hatted businessmen nonchalantly lunching in front of Mlle. Yvonne. Soon after, the Boston Sunday Herald archly described Juglaris as an artist "with a flair for figure painting that is stunningly apparent." During the 1980s Locke-Ober patrons organized the Mlle. Yvonne Club. Members loyally sported red fancy dress suspenders emblazoned with double images of Juglaris's voluptuous lady.


Far more modest was the portrait Juglaris painted of First Lady Frances Folsom Cleveland in 1890. The portrait commission was arranged by the influential Helena deKay Gilder. Besides being a founder of both the Art Students' League and the Society of American Artists in New York, she was the wife of noted Scribner's editor Richard Gilder and a close personal friend of the president and his wife.
Grover and Frances Cleveland, who annually summered along the Atlantic coast at Marion, Massachusetts, twice cordially entertained Juglaris at lunch. Juglaris was charmed by his young subject whom he addressed in his memoir as the "lovely Mrs. President." An expansive President Cleveland, who favored immigration, prophesized that Juglaris had a brilliant future ahead of him in America.