The Politics of Art
"Nothing was done without my advice and approval."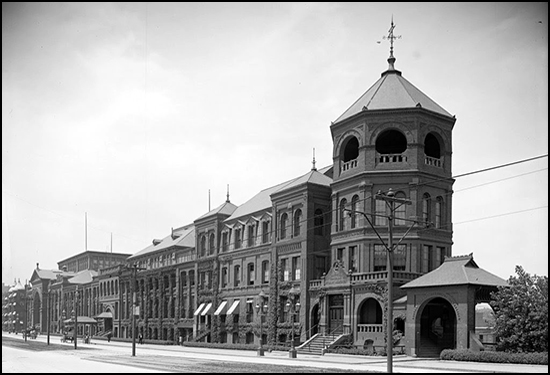 Amid personal trials and sorrows, Tommaso Juglaris continued to enjoy an ascendant career in Boston as an artist, teacher, and pundit. A man of high ideals, possessed with a keen sense of propriety, Juglaris was particularly passionate about upholding the integrity of the field of art as both a high calling and professional enterprise. Although often trusting and generous to a fault, he did not suffer fools or scoundrels gladly. Nor was he patient with incompetence or rank prejudice. All this is evident in some of the seminal moments of his American decade as he jostled to make his own way through the inevitable politics of the art world.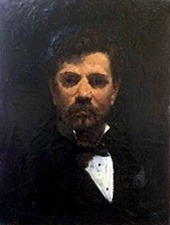 Very revealing, for instance, is an incident that occurred in fall 1881. Submitting a painting to the Boston's Mechanics's Fair exhibition on Huntington Avenue, he discovered that it had first been buried in storage and then "skyed" and "killed" by being banished to a dark place "eight meters high, above a huge door in a dark passageway." When Juglaris demanded an explanation, the exhibition director "cynically replied that I should as a foreigner and a Frenchman [sic], thank him for having been accepted and exhibited" under any circumstance. Juglaris was not inclined to pull punches. As he remarks in his memoir: "I spit in his face and offered him two slaps. [Friend and colleague] Dunsmore was there with me [and] he prevented me from taking him by the neck and making a scene there. And to think that if Americans can make a bit of art today they owe it to the instruction received from the Italians, the French and the English from Europe! And in recognition of the good received, we receive insults! And so the sun in America was not [meant] to warm everyone." Ironically, the exhibition director, John J. Enneking, had emigrated from Germany as a young child and in subsequent years was to serve with Juglaris on exhibition juries for both the Boston Mechanics' Fair and the Boston Art Club.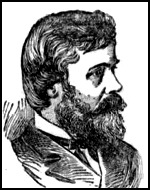 As someone who expected fair dealing from others, Juglaris was committed to being judicious and fair in return. His personal scruples were evident in his newly-appointed role as Art Assessor for the Commonwealth of Massachusetts. In fall 1884, Prang and his publishing company were eager to market art education curricula on linear perspective to Massachusetts's state-funded drawing schools. It was a $60,000 plus deal, a huge contract for that time. On inspection, however, Juglaris found Prang's instructional materials "badly done" and refused to endorse them for public purchase. As much as Juglaris relished turning the tables on an old employer who had once treated him so badly, he made sure that he "had the right reasons to advance in case of a complaint." He did not want his veto of the Prang materials to be simply construed as an act of retaliation.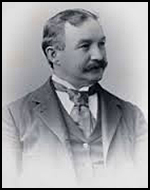 Although Juglaris's approach to art was largely conventional in the Beaux Arts style, he took pride in the originality of his own work at a time when there was a heightened concern about artistic authenticity, generally, and Boston newspapers were touting a "New Copyright Movement" intent on ending literary piracy. Consequently, he was "amazed by [the] bravado" of prominent American artists like Francis "Frank" Millet and Elihu Vedder whom he believed were copying the work of European artists. Indeed, because of the distance separating Europe and America, it was almost possible to plagiarize art works without being caught. Upset by such fraud, as he perceived it, Juglaris openly confronted Millet in a way that could only have been embarrassing to one of Boston's major artists. In the long term, this bold challenge did not redound to Juglaris's benefit. In fact, remaining highly influential in Boston art circles and, more broadly, in the cadre of respected American cultural leaders, Millet went on to head the vast mural project at the 1893 Columbian Exposition in Chicago which emphasized the talents of native American artists, excluding any "foreign" muralists like Juglaris.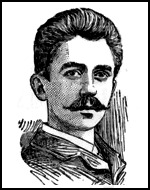 Ultimately, Juglaris's scorn for artistic plagiarism became the crux of another major scandal that roiled the waters of Boston's art circles in late 1887 and early 1888. It was a time when his own fortunes as a public art figure in Boston were riding high and, called to serve on one art jury after another, "nothing was done without my advice and approval." The scandal involved a younger artist named Abbott Fuller Graves and Juglaris's role as a juror for the Mechanics's Fair Art Exhibition.
Graves was a former pupil of Juglaris, who had also vacationed with him and his late wife in Canada. An early Juglaris memoir entry from 1883 quite agreeably describes Graves as "a painter of flowers who did not want to study but was merry and full of fun [and] knew how to make time pass." Later, by sheer happenstance, the widowed Juglaris met up with Graves and his fiancée, "Monti" Aldrich, in Paris. Changing his personal plans in order to welcome them to his native Italy, he took the couple and some of her family members on a tour of Milan and Venice. But the trip was not so sunny: Juglaris generously fronted significant travel expenses for Graves and Aldrich which were never reimbursed as promised.
Back in Boston, the impetuous young Graves—newly married, with fellow artists Childe Hassam and Edmund C. Tarbell standing up at his wedding--became a cause celebre for his own generation and a bete noir for the city's art establishment. Unhappy with the placement of one of his flower paintings at a Boston Art Club exhibition, he cut it out of the frame and took it home with him. Left hanging for the duration of the exhibition, the empty frame was regarded by other young artists as a fitting protest against the capricious authority of art juries and hanging committees. Boston's newspapers suggested that the "skyed" placement of Graves's work may have been the result of personal animosity towards him by hanging committee members, whose ranks likely included Juglaris.
A second, still larger scandal erupted as a result of an art jury decision at the November 1887 Mechanics's Fair to award Graves a silver, rather than gold, medal for a submitted work. Serving on that jury and influencing its awards, Juglaris had shared with fellow judges a picture of a painting by the French artist Georges Jeannin, printed in the 1884 Paris Salon catalogue, which looked suspiciously similar to Graves's own flower scene. Violating confidentiality, a jury member subsequently leaked Juglaris's accusation of plagiarism to Graves, who was studying abroad. Offended, with his artistic career suddenly on the line, Graves challenged the claim from Paris. What followed was a donnybrook of charges and countercharges, leveled through the Boston press.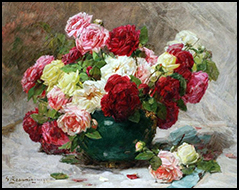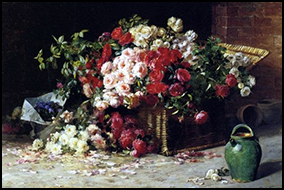 Juglaris secured a letter directly from Jeannin in France, expressing concern about the plagiarism of his works. In turn, Graves sent a letter to Boston, along with signed legal affidavits from witnesses, reporting on a personal interview with Jeannin in which the noted French flower painter conceded that Graves's controversial painting was not an outright copy. Graves's wealthy father-in-law, the well-known American actor and comedian Louis Aldrich, threatened Juglaris with a law suit for libel. Thereafter, Juglaris, who accused Aldrich of bribing newspapers editors, filed a countersuit. Meanwhile, in a letter now owned by the Michigan State Capitol, Graves's new wife, Monti, was writing Art School proprietor Frank Cowles and anyone else who would listen, that Juglaris was "the basest of men."
Eventually, the dust settled on the "Juglaris-Graves Affair" with Boston newspapers issuing retractions on libelous remarks made about Juglaris in siding with Graves. But the episode hurt the reputations of each artist and further polarized Boston's art community with strong partisans remaining on both sides. Among Juglaris's critics was Lyman H. Weeks, editor of American Art magazine. While Juglaris resumed his successful teaching career locally, Graves persisted with his studies abroad, including instruction from Jeannin. In the years that followed, Graves, despite personal problems which Juglaris notes in his memoir, went on to enjoy a lucrative career in Boston and New York City as a teacher, painter, and member of the National Academy of Art.