Controversy over Nudes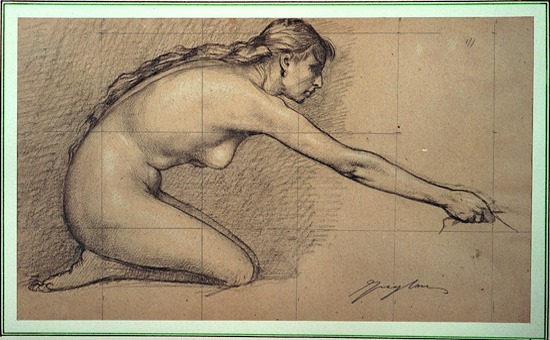 The Naked and the Nude in Boston: Hiram Powers's Greek Slave
In his memoirs Tommaso Juglaris claims credit for introducing the public exhibition of the nude in art to Boston. The claim is not idle. Throughout the late nineteenth and early twentieth centuries any display of a nude figure in the United States was highly controversial, especially in the "Athens of America."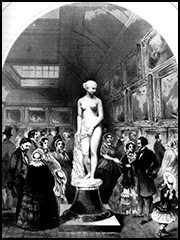 During the 1840s and 1850s the American sculptor Hiram Powers had successfully exhibited a nude, The Greek Slave, across the United States and Europe with huge crowds in attendance. As part of the tour, it was exhibited on the Boston Commons in 1848. The sculpted work depicts a full-figured woman, nude and bound in chains, with a small cross dangling from her hand, an emblem of her faith. Although The Greek Slave was considered provocative, Powers, helped by his publicist, was able to allay public outrage by crafting an elaborate and compelling moral narrative or story around his work. The naked woman was presented as a shining example of Christian moral purity transcending the degradation imposed upon her by Turkish captors, who were simultaneously waging a campaign to suppress a popular Greek independence movement. The story not only appealed to Boston's church-going population but also abolitionists, proto-feminists, and advocates of Greek freedom. Beyond any thematic context, the fact that The Greek Slave was sculpted in cold white marble was also deemed significant: in the eyes of pundits and critics, it reduced the sensuality of the art work, making it morally palatable. A version of The Greek Slave were acquired by the Corcoran Gallery of Art in Washington, D.C., in 1851. Later, other copies found their way into American museums.
Thomas Eakins Scandalizes Philadelphia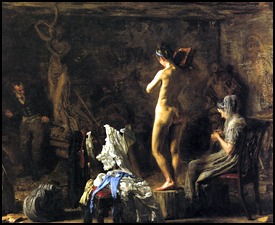 Another ground-breaking display of the nude form in American art came with the unveiling of a painting by the Philadelphia-based artist Thomas Eakins during the late 1870s. Entitled William Rush Carving His Allegorical Figure of the Schuylkill River, it depicts a naked female model, shown only from the rear, posing for the sculptor William Rush as he carves a statue meant to symbolize a river important to the prosperity of Philadelphia. While Eakins was bold in painting realistic light-dappled human flesh, he too embedded his work in a larger justifying narrative, presenting a historical scene of an earlier artist at work. However, he soon courted greater controversy when he painted Arcadia (1883) and Swimming (1885), depicting naked men and women bathing in classical or naturalistic settings. In 1886, Eakins was actually fired from his teaching post at the Pennsylvania Academy of Fine Arts after removing the loincloth from a nude male model during an anatomy lecture to female students. There was also an uproar over nude modeling among the Pennsylvania Academy's female students. The scandal was greater than met the eye or was reported in print: a cache of photographs preserved from Eakins's studio reveals that his own male and female students were modeling in mixed company and that he was participating as well.
Behind Locked Doors: The Nude in Boston
The circumstances in Juglaris's adopted city of Boston were perhaps even more tense than Philadelphia with regard to nude displays. Any positive impact from the showing of Hiram Powers's Greek Slave on the Boston Commons had long dissipated.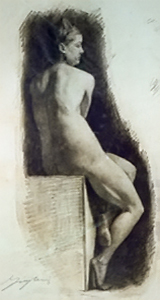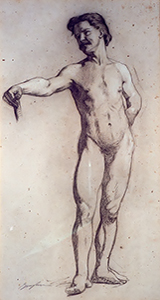 In 1876, as the Boston Museum of Fine Arts prepared to open its doors, the new institution's trustees felt obliged to add fig leaves to the plaster casts of classical statuary adorning their galleries. Four years later, with the Museum's School for Drawing and Painting also well underway, art students interested in a "life class" that would allow them to paint more than a head of a model found themselves stymied: William Ware, secretary of the school and a dean at the Massachusetts Institute of Technology, informed them that "the horror of some of the Trustees at the idea of a nude model in their chaste Museum of Fine Arts was too great to be overcome." However, during the school year 1880-81, Ernest Longfellow, the son of the famous poet whom Juglaris had known as part of Thomas Couture's circle in France, finally received permission from museum trustees to lead a class in drawing from the nude. "As school historian Winthrop Pierce recalls, cited by Walter Muir Whitehall in Museum of Fine Arts: A Centennial History, Longfellow's "permission…was strictly limited to the male nude." Moreover, the "cost of the model was shared by the class. Those who availed themselves of this chance to study the figure met on certain afternoons with a carefully locked doors, to enjoy the sense of being in opposition to their elders, always so dear to youth." [Walter Muir Whitehill, Museum of Fine Arts: A Centennial History, Cambridge, Massachusetts: Belknap Press/Harvard University Press, 53]
The experience whetted the students' appetite for greater freedom in studying and displaying the nude. In 1885 they actively began a five year campaign for the museum's purchase of a painting, Automedon with the Horses of Achilles, by the French artist Georges Henri Regnault. Dramatic, even sensational, it shows the well-muscled nude figure of Automedon grasping with outstretched arm the bridle of one of Achille's horses. The students ultimately paid for the painting by their own subscription.
Juglaris Removes Boston's 'Veil of Chastity'
Juglaris arrived in Boston at a tipping point. Amazed by the prudery that he encountered in America, even after an earlier 1878 showing of two small nudes by artist Thomas W. Dewing at the private Boston Art Club, he took great pride in being the first artist to exhibit a fully nude figure in the city's public space since the days of Hiram Powers's sculpted Greek Slave. (See earlier above Juglaris in America: Introducing the Nude) A presentation of his two Paris Salon paintings, The Invasion and Paolo Veronese in Venice, also known as Venetian Promenade, took place as part of a larger exhibition of "Living American Artists" at the Boston Museum of Fine Arts. According to Juglaris's memoirs, his paintings were hung high over a doorway. But the nudity of his male and female figures in The Invasion was not obscured, incurring the ire of the city's moral arbiters. As Juglaris remarks: "The papers spoke very well of my works, in fact better than I would have thought they would, as I was a foreigner. However, harsh observations were made insofar as the exposed nudity was concerned…. I was in fact the first to have risked exhibiting nude figures in America, in Boston in particular. I had removed the veil of chastity and purity from Puritanism. They forgave me because I was a foreigner, but hard things were said to the [organizing] committee and the [museum's] administration."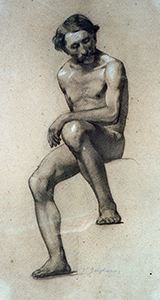 Juglaris continued to exhibit drawings from the nude at subsequent Boston exhibitions. Nevertheless, it was his role as a staunch and outspoken advocate for drawing from the nude, as well his own painting of a voluptuously endowed woman, that put him at the forefront of efforts to make the nude semi-respectable as an artistic subject in Boston.
In 1882, during a competition for a teaching post at the Massachusetts Normal Art School or "Boston Art Academy" as cited in the artist's memoirs, Juglaris joined seventeen other candidates in drawing from a live model along lines he recommended to the search committee. Each "contestant" was called upon to "do a large life-size drawing indicating first of all the action of the bones, then the movement of the principal muscles and lastly, finish it with charcoal in the space of ten or twelve hours." Yet as Juglaris pointedly notes in his memoirs the model selected for the occasion was male with only his naked torso exposed: in Boston anything more would have still been considered indiscreet. Juglaris, who had significant training and experience in human anatomy thanks to his studies at the Accademia Albertina in Turin, his Italian apprenticeship with Paolo Morgari, and his Beaux Arts training with Gerome, Cabanel, and Couture in France, won the competition and teaching post.
Juglaris Designs Boston Art Club's 'Theater of the Nude'
That same year the Boston Art Club was constructing a handsome new facility on Newberry Street in the city's Back Bay neighborhood. Juglaris advised the Club's trustees and architect on the appropriate design of an amphitheater for life drawing classes, based on his own experiences with art schools and "theaters of the nude" in Europe. Thereafter, hired by the Boston Art Club to serve as a resident instructor, Juglaris brought his more cosmopolitan European perspective on the nude to evening classes taught in the new amphitheater. As reflected in his own portfolio, Juglaris believed that studies from the nude were foundational for learning how to skillfully draw any human figure, whether dressed or undressed.
Nude Mlle. Yvonne Installed at Locke-Ober's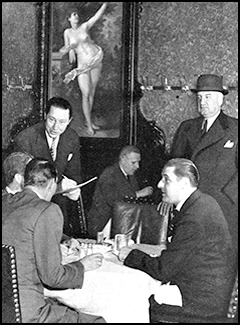 Juglaris's talent for the nude was displayed in his large oil painting, Mlle. Yvonne, acquired in 1885 or 1886 by Locke-Ober's Café at 2 Winter Place near the Boston Commons. A frontal nude, the full-figured woman leans on a classical-style post in a garden setting. She looks up to her own upraised hand holding a chalice that resembles a large champagne glass, perhaps toasting or celebrating life. There is no larger or deeper narrative to rationalize or justify her nudity. Adorning the popular Men's Bar of the Locke-Ober Restaurant, Mlle. Yvonne was part of a wave of similar "saloon nudes" by other artists, including Jules Lefebvre, Adolphe Bouguereau, and John Noble mounted in places where men more exclusively gathered and socialized.
Juglaris's painting at Locke-Ober's served as a Boston landmark for next century and more. Legends grew up that Juglaris had painted the statuesque figure in a nearby garret and then sold the painting to Locke-Ober's for a handful of dollars to avoid starvation. As late as the 1940s, Mlle. Yvonne was the topic of commentary in the Boston Sunday Herald where Juglaris, by then mostly forgotten in Boston, was described as an artist "with a flair for painting that is stunningly apparent." In the 1980s and 1990s, Mlle. Yvonne became the focus of an informal men's club among diners at Locke-Ober's: members were issued fancy red suspenders displaying her image. At some point, it became customary to drape the frame of Mlle. Yvonne in black crepe whenever Harvard University's football team lost a game to archrival Yale.
When Locke-Ober's closed in 2012, all of historic restaurant's contents were sold at auction, except for the Juglaris painting, which was retained by its owner. However, Mlle. Yvonne has since inspired a new restaurant, Yvonne's, in the former Locke-Ober location. The contemporary Dutch artist Handiedan was commissioned to paint a fresh version of Juglaris's nude lady. It is now enshrined in the new Boston supper club which opened in September 2015.
Controversy at the Boston Public Library
Juglaris's best efforts notwithstanding, Boston continued to have reservations about nude displays in art even a full decade afterMlle. Yvonne was first installed. Controversy erupted over at least two sculptural pieces—the first by Augustus Saint Gaudens; the second by Frederick MacMonnies.
The controversial piece by Augustus Saint-Gaudens was a sculpted "devise" intended to serve as a symbol for the Boston Public Library. It presented two nude boys, each bearing torches of learning, and supporting a shield with the library's founding dates and Latin motto. As historian Walter Muir Whitehall notes, it provoked a great hue and cry: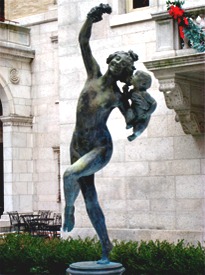 "This pleasant composition, although of the most idyllic and high-minded nature, was presently denounced in 1894 by newspaper reports as a major indecency, because of the nakedness of the small boys. The Boston Evening Record crusaded for fig leaves or chisels, even going to far as to denounce the entire building (not yet open to the public) as a 'stench and an eye-sore'; this flaunting of virtue was too ridiculous to succeed even in Boston." [Walter Muir Whitehall, "The Making of an Architectural masterpiece—The Boston Public Library, American Art Journal 2 (Autumn): 28 (quote); also see Whitehead, "The Vicissitudes of Bacchante in Boston," New England Quarterly 27 (December 1954): 435-454]
Subsequently, the controversy did abate with the "little boys neither clothed nor castrated." Perhaps, briefly, it even looked as if a page had definitely been turned in Boston. In 1895-1896, the acclaimed French muralist Pierre Puvis de Chavannes completed a series of murals for the grand staircase and loggia of the new Boston Public Library on Copley Square. Two of the panels, symbolically representing Chemistry and History, feature nude figures. They were mounted on the walls without public protest. However, that very same year (1896) the library's architect, Harvard-educated Charles Follen McKim, faced another firestorm when he offered to the library trustees the gift of a nude Frederick MacMonnies statue, Bacchante and Infant Faun. It was meant to adorn a courtyard fountain as a memorial to his own late wife, a member of Boston's famous Appleton family. Although actually installed in the library's classical, open-air courtyard, the sculpture had to be removed six months later due to vocal public opposition. McKim donated it to the Metropolitan Museum of Art in New York City instead.
High Exposure: Juglaris's Grecian Festival and Hours at the Franklin Public Library
Undeterred by the previous controversy at the Boston Public Library which had occurred in his absence, Juglaris made the nude form a an integral part of his enormous Grecian Festival mural cycle at the Franklin Public Library when he returned to the United States from Italy during summers from 1902 to 1904. At the center of his library mural is a swirl of lithe and ecstatic semi-nude dancers. Likewise, a series of high-wall friezes in the nearby entrance hall also painted by Juglaris display no shortage of female bosom. Likewise, despite archival photos that show that Juglaris revised many of the Grecian Festival panels for the main reading room before final installation and unveiling to reduce or eliminate nudity, many of his figures remain conspicuously exposed. For the past century they have been casually viewed every day by library patrons of all ages. Ultimately, Juglaris, like Puvis de Chavannes, enjoyed an artistic victory that eluded McKim's efforts to make MacMonnies's Bacchante and Infant Faun a focal point of the Boston Public Library courtyard.
During his decade in Boston Juglaris's role in introducing the nude was underscored at a dinner hosted by his friends and students honoring him: each banquet table was decorated with an emblematic nude image. Today, though Juglaris's name may no longer be familiar to Bostonians and the original splendor of Mlle. Yvonne has disappeared from public sight, his contributions to the nude in art can still be appreciated by those touring the Franklin Public Library or taking a glance at the drawings from his own hand which survive.
Gallery: Studies from the Nude by Tommaso Juglaris