Publishing the Juglaris Memoir
Project Background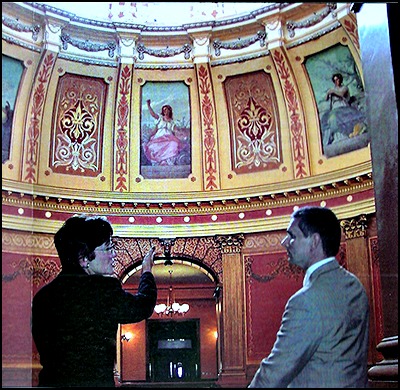 For a century, eight monumental painted muses crowning the interior dome of the Michigan State Capitol, a treasure of the Gilded Age, remained shrouded in mystery. Unsigned except for a cryptic, almost indecipherable monogram, they were long attributed to a native Michigan artist. However, shortly after the paintings were conserved in the 1990s as part of an extensive restoration of the Capitol, a surprising discovery was made: the true artist had no immediate ties to Michigan at all. Instead, he was the Italian-born painter and muralist Tommaso Juglaris. The indecipherable monogram turned out to be his linked initials, "T" and "J," found on many of his works.
A native of Moncalieri, a town just outside Turin, Italy, Juglaris first trained at the Accademia Albertina in that city and then in Paris under Alexandre Cabanel, Jean-Leon Gerome, and Thomas Couture. After exhibiting annually at the Paris Salon, he immigrated in 1880 to the United States under contract with the lithographer Louis Prang. Thereafter, he pursued a successful career as a painter and teacher at the Boston Art Club, Cowles School, New England Conservatory, Massachusetts Normal Art School (today Massachusetts College of Art), and Rhode Island School of Design in Providence. Among his many students were the American Impressionist Childe Hassam, budding feminist painter Marcia Oakes Woodbury, master etcher Sears Gallagher, and mariner artist Augustus Buhler. Another more controversial student was the transgender Carolina/Charles Hall. His wide circle of acquaintances, colleagues, and friends included Boston Museum president Martin Brimmer, stained glass manufacturer Donald MacDonald, and John Ward Dunsmore, first director of the newly-organized Detroit Museum of Art (now Detroit Institute of Arts).
Discovery of the Juglaris Manuscript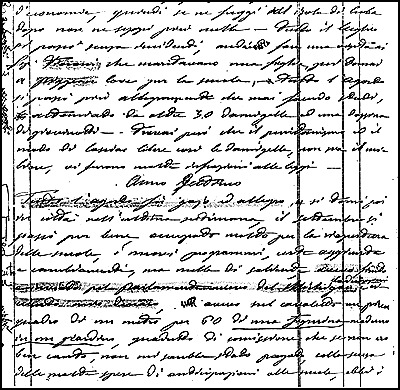 In 2003-2005, an international exhibition of Juglaris's work was mounted in Michigan and Italy under the auspices of the state's Michigan Historical Center in Lansing, and the Famija Moncalereisa, a cultural heritage organization headquartered in Moncalieri. During preparations for the exhibit, a previously unknown memoir—hand-written by the artist—was discovered in the possession of his housekeeper's descendants. Offering a treasure trove of information about the late nineteenth-century arts scene in Turin, Paris, and Boston, Juglaris vividly describes his versatile and varied career in the fine, decorative and industrial arts. The memoir is set against a backdrop of rising American xenophobia and domestic labor turmoil—conditions that thwarted public recognition of his work in Michigan, as well as appreciation of his career in the United States.
An Artist's and Immigrant's View of America's Gilded Age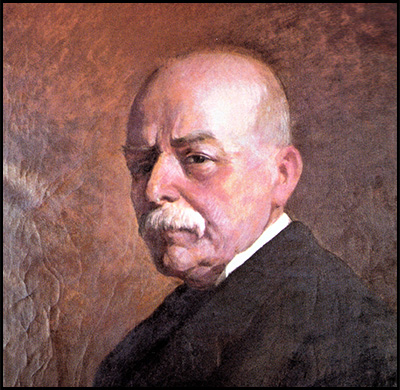 Juglaris offers insightful and sometimes pungent accounts of his encounters with prominent artists and art leaders of his day, including Frances D. Millet, Helena de Kay Gilder, Sylvester Koehler, Louis Prang ("Father of the American Christmas Card") and John Sartain. Among many engaging anecdotes are Juglaris's accounts of his commission to paint First Lady Frances Folsom Cleveland and his difficulties introducing the nude in art to staid Boston. His painting of voluptuous "Mlle. Yvonne," which hung in Boston's historic Locke-Ober's Restaurant for over 125 years and was regarded as a local landmark, is a testament to his success. Adding further flavor and substance to the memoir, Juglaris recounts in often humorous detail his reactions to Gilded Age America, whose explosive growth both fascinated and repelled him, His story is an immigrant's tale, told through the eyes of an artist struggling to establish a new life in a strange new world.
Our Goal: To Publish the Manuscript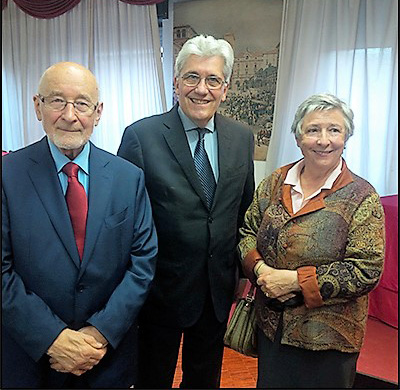 The value of the Juglaris memoir was immediately apparent upon their discovery. In Italy and America there was recognition that this artist's voice deserves a wide audience. Besides appealing to a general public interested in Belle Epoque Paris and Gilded Age America, the text is of value to scholars and students seeking additional perspectives on the Italian immigrant experience in America, the development of lithographic and stained glass art, the late nineteenth-century mural movement, the rise of American art education and the personal lives of some of America's leading art figures. The first step towards the goal of publication was taken with the 2005 acquisition of the memoir by the Michigan History Foundation. The following year, thanks to a generous grant from Ambassador Peter Secchia, former United States envoy to Italy, the memoir were transcribed from their original Italian handwritten script. All manuscript references to Italian and French artists were researched and annotated by the Turinese art historian Maria Luisa Reviglio Della Veneria, who has also prepared a catalogue raisonne of the artist's known works. Further research on events and figures cited by the Juglaris memoir has been successfully pursued by Dr. Geoffrey G. Drutchas, as reflected in the extensive web site designed by Gary Peters. A preliminary English-language translation of the Juglaris memoir in its entirety has also been completed by Judith Hochwald Trinchero, a co-author of the Juglaris international exhibition catalogue. Except for short excerpts used in that bilingual exhibition catalogue, the present web site, and an Italian American article (Winter 2011) on Juglaris's American career by Dr. Drutchas, the memoir has not been published in either Italian or English.
What Remains to Be Done?
Work is currently underway to translate, annotate, illustrate, and publish an English-language edition of the 250-page manuscript, The project is being superintended by the Juglaris Publication Commission, composed of members from Michigan, Massachusetts, and Rhode Island and representing diverse backgrounds ranging from art history and Italian-American studies government. The art historians and Italian-American studies scholars represented on the commission will assist as needed in any further editing and annotation of the memoir.
The commission invites inquiries from interested publishers. Please contact Sandra Clark, Director of the Michigan Historical Center, at 517-373-6362 or [email protected].