Help Arrives: John Sartain and Donald MacDonald
"In Philadelphia I did not find work to be able to stay there [though] I had knocked at every door. A former professor of the [Pennsylvania] Academy [of Fine Arts], Mr. Sartain, wanted me to stay on. I had opened my cases and shown him my paintings without frameworks or frames. He complimented me with many nice promises for the future. [But] since the future was more than sad for me, they didn't convince me."
"I had spent a year in America. It was August 15, 1881, and for the first year I had absolutely nothing that could reconcile me to that country, nor of the long-sung republic with its great freedom . . . I was truly thinking of returning [to Paris] . . . I was sad and desolate."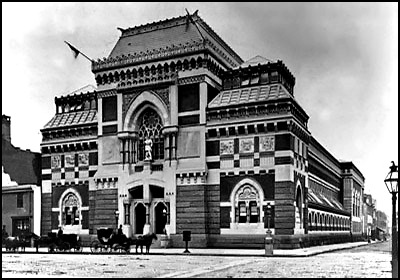 Louis Prang maintained his vendetta against Juglaris, successfully blackballing his former employee's efforts to find work in Boston. Faced with destitution, Juglaris soon realized that he had to leave town. On the basis of an invitation to become the director and designer of a new periodical, The Ideal, he moved to Philadelphia. Unfortunately, a legal dispute between the new magazine's partners prevented its launch. Juglaris was once again adrift without a stable job.

While in Philadelphia, Juglaris was introduced to John Sartain, the head of a distinguished family of artists, printmakers and educators and one of the city's cultural leaders. Sartain generously took Juglaris under wing and tried to persuade him to settle permanently in Philadelphia. He arranged for the exhibition of Juglaris's Paris Salon paintings at the Pennsylvania Academy of Fine Arts. Later, he also facilitated the sale of one of the paintings, Paolo Veronese in Venice. This was immensely helpful to Juglaris financially and gave him great peace of mind: he was eager to find a purchaser for the huge canvas before it was ruined from being constantly rolled and unrolled for easier and less costly transport.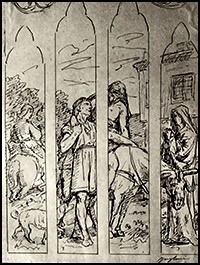 Juglaris appreciated Sartain's support and encouragement. Nevertheless, work remained hard to find in Philadelphia. Unexpectedly, word came from Boston that stained glass manufacturer Donald MacDonald needed an artist. MacDonald, whose business was not beholden to Prang in the slightest way, assured Juglaris that he could offer him a steady stream of design commissions for stained glass. Prang would not be an obstruction. Perhaps regarding the offer as a personal vindication, as well as his best bet financially, Juglaris opted for Boston over Philadelphia.
Living in Boston again at the end of his first year in America, Juglaris was still feeling "sad and desolate," wondering if he should return to Paris. Yet his fortunes were about to improve. Everything was soon looking up -- MacDonald was completely true to his word. Prang might fulminate, spewing venom and spreading slander, but there was no further real trouble from him. What followed was a long-term collaboration between MacDonald and Juglaris, which, besides being mutually lucrative, won them praise for stained glass designs for churches and other buildings in Boston, Philadelphia, and even far distant San Francisco.