Religious Murals and Paintings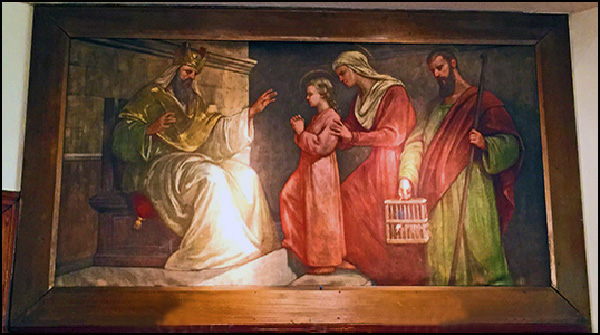 Throughout Juglaris's stay in the United States, most of his ecclesiastical commissions were for the decoration of Protestant churches. Whether this reflected the local circles in which he travelled, his own free-thinking spirit, or the particular appeal of his decorative style is not clear. However, in April 1891, during his final year in America before moving back to Italy, he was called upon to assist with the decoration of Saints Peter and Paul Roman Catholic Church in South Boston, serving an Irish Catholic immigrant population.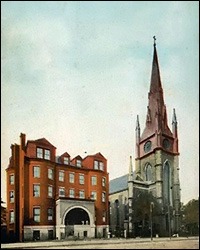 Besides decorating the walls of the sanctuary with various motifs, Juglaris executed two immense murals flanking the main altar—the first depicting the flight into Egypt by Joseph, Mary, and Jesus; the second portraying Christ blessing little children. All figures were double life-sized. Each measured seven meters in length (23 feet) and five meters (16½ feet) in height. The murals were cited by Boston newspapers as the largest artwork in the city at the time. The project, which took three months to complete with the assistance of two students, was finished on June 8, 1891.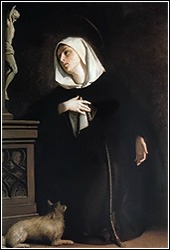 Despite the press coverage, Juglaris's mural failed to attract sustained interest. The church was an older building undergoing remodeling and redecoration and it was located in an unfashionable district far removed from Beacon Hill and Back Bay where Boston's movers and shakers lived. An inspection of Saints Peter and Paul Church in the early 1990s revealed no trace of this work. Walls were painted plain white and no record had been kept of what became of Juglaris's murals. The struggling parish has since been dissolved, the church decommissioned, and the building converted into condominiums. Perhaps some idea of Juglaris's lost mural work at Saints Peter and Paul can be gained from a later ecclesiastical commission at the Franklin Federated Church in Franklin, Massachusetts. Completed at approximately the same time that Juglaris was painting murals and friezes for the nearby Franklin Public Library in 1902-1904, the church mural is ensconced above a fireplace mantel. Imbued with the sweep and dignity that also distinguishes Juglaris's secular paintings, it depicts Jesus with his parents approaching a high priest of Jerusalem's Great Temple, preparing to offer a bird in sacrifice.
After Juglaris returned to Italy in fall 1891 he lived in Florence in a villa shared with a new wife, the widow of an old friend. Florence had its charms: it is a city associated with the Italian Renaissance's greatest artists. Yet when his second wife died after an extended illness, Juglaris found no reason to remain, particularly given the high expense of Florentine life. Consequently, Juglaris moved back to Turin, his old home. There he resumed his artistic career. Perhaps reflecting the most lucrative source of commissions or his continued affinity for religious subjects and themes, much of his work was for churches. Juglaris brought a naturalistic style or perspective to scenes of supernatural encounter--a juxtaposition that can be striking and unsettling, yet in its own way effective. As an artist, he also preferred what was wholesome, handsome, and even plain to anything pretty or sentimental. Indeed, the beautiful for Juglaris appears to lie mostly in the realm of the mundane and with human faces and figures distinguished by their gravitas.