Painting the First Lady
"I finished the portrait in seven sittings of two hours each. Mrs. Cleveland posed like a professional model. It was found by most to be a strong resemblance . . . "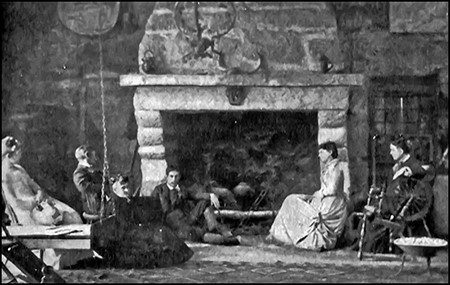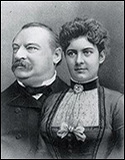 For all the attention and notoriety that Tommaso Juglaris garnered for his nude painting of Mlle. Yvonne, he was also appreciated as an artist capable of more chaste work. Indeed, Juglaris's reputation was sufficient to attract the notice of New York City-based artist and culture maven Helena deKay Gilder, a founder of both the Art Students's League and the Society of American Artists, as well as the sister of the New York Times art critic Charles deKay. Yet Helena deKay Gilder's influence didn't stop there. She was also the wife of the noted and politically astute Scribner's editor Richard Gilder. In turn, along with her husband, Mrs. Gilder was a close personal friend of U.S. President Grover Cleveland and his wife. Ultimately, the well-networked Helena deKay Gilder--with the likely encouragement of her husband--recruited Juglaris to paint Frances Folsom Cleveland's portrait.
Grover Cleveland was the only American president to serve two non-consecutive terms in office, 1885-1889 and 1893-1896. He wed Frances Folsom in the Blue Room of the White House in June 1886. The marriage was slightly controversial because of an age difference and president's previous role as a close, longstanding family friend. While Grover Cleveland was already 49, Frances was merely 21 years of age, making her the youngest First Lady in U.S. history—a record she still retains.

A fresh face, appealing widely to the women of her day, Frances Cleveland was the object of considerable newspaper and magazine attention. She became a much-photographed fashion icon. Hundreds of photos of Frances Cleveland survive. Without permission, her image was also exploited for commercial advertising—a cause of pique for both the President and First Lady. In the face of all this, the Gilders, particularly Richard, were eager to see Frances Cleveland immortalized in a finer way. As Annette Dunlap, Frances Cleveland's biographer, has noted, Richard Gilder wrote the First Lady on June 29, 1887. In his letter, Gilder encouraged Frances Cleveland to have a more suitable portrait done. He then goes on to propose that the "American-European" painter John Singer Sargent be solicited for such a commission or, alternatively, Augustus Saint-Gaudens.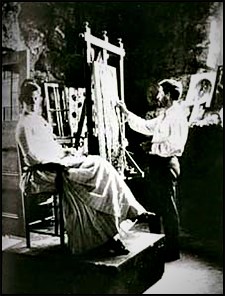 With second thought, Richard Gilder is particularly fulsome in recommending Saint-Gaudens, whom he knew personally. Saint-Gaudens, Gilder explains, "is one of the best [sculptors] now living. Besides his public work—The Farragut in New York—the forthcoming Col. Shaw in Boston and Lincoln in Chicago, etc., he has made some most exquisite [smaller] portraits in the style I speak of." At the same time Gilder speculates that in lieu of a sculpted work, Saint-Gaudens might also be willing to paint a more conventional oil portrait. It would likely necessitate "sittings during two weeks in Washington or wherever you prefer." In fact, soon afterwards Richard Gilder's letter, Helena deKay Gilder arranged for Augustus Saint-Gaudens to begin a medallion bas relief portrait of the First Lady. As recorded in a vintage photograph, Frances Cleveland sat for the sculptor's necessary sketches in Helena deKay Gilder's Marion, Massachusetts studio near Cape Cod. But it was another five years before Saint-Gaudens actually completed a seventeen-inch plaster portrait and ten years more (1902) until he finally cast a five-inch bas relief in bronze. Meanwhile, in early-to-mid summer 1890, Helena deKay Gilder went ahead on behalf of the Clevelands and secured the services of Juglaris for an oil portrait.
Exactly how Helena deKay Gilder first became acquainted with Juglaris remains somewhat a mystery. Yet she did have longstanding ties with the New York Academy of Design where she had earlier studied and Juglaris periodically served as an art juror. Moreover, Juglaris was among the artists already listed in Scribner's Cyclopedia of Painters and Paintings published by Richard Gilder's employer.
One of the leading artists for Scribner's Cyclopedia was the Hungarian-born Jacques Reich whom Juglaris counted as a colleague and friend. Reich also served as an art director or coordinator for Appletons' Cyclopaedia of American Biography with which Juglaris may well have assisted. In his memoirs, Juglaris recalls a happy rendez-vous with Reich in February 1889: "Reich had come to see me and with him we visited the illustrious men living in Boston. We saw Oliver Wendell Holmes, [John Boyle] O' Reilly, [John Greenleaf] Whittier, [the Edward B. and George H.] Butlers, and [James Russell] Lowell. They received us well and were extremely nice. Reich was to do some portraits of all the illustrious men, historians, ancient and modern, of the United States. My biography was also among the artists." Those visited by Reich and Juglaris included four renowned poets and two leading Boston retailers who helped innovate America's 'Five-and-Dime' stores.
Probably at the behest of Reich and on the basis of many available photographs of the "Bride of the White House," Juglaris appears to have executed a sketch of Frances Folsom Cleveland for the 1889 edition of Appletons' Cyclopaedia: a half-turned monogram--not dissimilar to the recombined 'TJ" initials displayed on other works--is noticeable in the design of the First Lady's right upper bodice. If Juglaris was indeed the sketching artist, as he most likely was, it could only have furthered his prospects for the prized Cleveland portrait commission. Of course, in the end, as Juglaris's own memoirs acknowledge, his Italian compatriot and New England Conservatory colleague Augusto Rotoli helped clinch the deal. Coincidentally meeting Frances Cleveland in early summer 1890 while vacationing in Marion within the orbit of the Gilder circle, Rotoli was able to put in a good word for Juglaris in response to the First Lady's own curious and earnest inquiry about him.
At the time, Grover and Frances Cleveland were temporarily out of the White House, living in New York City, as they awaited a successful reelection bid. But they began to spend much of their summers close to the Gilders in Marion along the Atlantic seacoast, where the president was able to enjoy his favorite pastime of fishing. Before purchasing a large house of their own on Buzzard's Bay known as "Gray Gables," Grover and Frances rented a "cottage" where they twice cordially entertained Juglaris at lunch when he came to Marion for the First Lady's portrait sittings.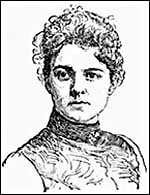 Like Augustus Saint-Gaudens three years earlier, Juglaris made use of Helena deKay's Gilder's studio "in the woods" to sketch and paint the First Lady. He devoted two weeks to a couple of preliminary drawings of Frances Cleveland and then returned to complete her portrait. "I finished the portrait," he explains in his memoirs, "in seven sittings of two hours each. Mrs. Cleveland posed like a professional model." According to Juglaris, it "was found by most to be a strong resemblance and I was paid 500 dollars"—a handsome sum approaching $13,000 by present-day accounting. Juglaris was thoroughly charmed by his young subject whom he quaintly but respectfully addressed in his memoirs as the "lovely Mrs. President." An expansive Grover Cleveland, who favored immigration, prophesized that Juglaris had a brilliant future ahead of him in America.

Subsequently, a couple of other artists were called upon to execute portraits of Frances Cleveland. In 1891 the New York socialite Peter Marie commissioned the French miniaturist Fernard Paillet to paint a locket-size portrait of Frances Cleveland for his personal collection of Gilded Age beauties. Likewise, in 1899 on a grander scale favoring an Art Nouveau style, Swedish painter Anders Leonard Zorn unveiled the former First Lady on canvas in a white sleeveless, strapless gown, tres decollete. Now part of the collection of the National Portrait Gallery in Washington, D.C., Zorn's work has come to be the best-known of all renderings. Nevertheless, Juglaris can still to be credited with Mrs. Cleveland's first commissioned oil portrait.

Unfortunately, neither the location nor fate of Juglaris's portrait and preliminary drawings of Frances Cleveland are presently known. However, like the muses of the Michigan State Capitol which were "buried" in plain sight and long attributed to another artist, or other Juglaris works which have surfaced from unsuspected places, sometimes deep storage, both the portrait and drawings of the First Lady may yet reappear.