Into the Unknown
"Only he who abandons a country he knows and heads for another unknown to him can have an idea of the tightening of heart that you experience leaving a seaport . . ."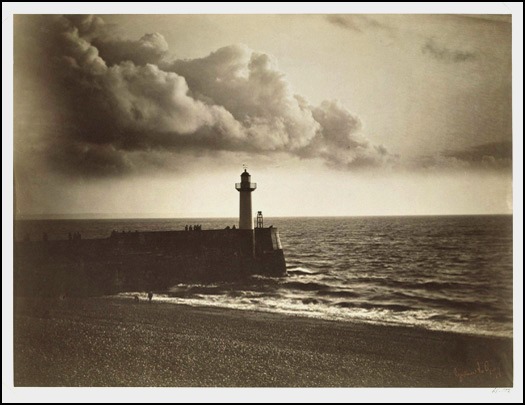 Bound for American shores, Juglaris wrapped up his affairs, rolled up two of his most important paintings, Paolo Veronese in Venice and The Invasion, and bid good-bye to friends in Paris. With a first-class ticket in hand, he boarded the French ship L'Amerique which was scheduled to set sail for America from the port of Le Havre on August 7, 1880 with 1700 passengers on board. Most were immigrants heading for new lives in a strange land. Like them, full of hope and expectation but also touched by sadness that attends any leave-taking, Juglaris was at the ship's rail awaiting departure.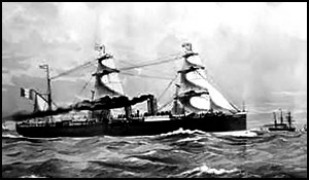 Equipped with sails and steam boilers, the L'Amerique was a hybrid ship owned by the Compagnie Generale Transatlantique, a French line. Only three years previously it had run aground off the French coast amid a "violent tempest." Three crew members were killed rescuing passengers.
Juglaris's own Atlantic crossing aboard the salvaged and recommissioned steamship began well enough. As a tugboat pulled the ship into open water, Juglaris was cheered amid his tears by the view of the harbor. It was festooned with French tricolors flapping in the brisk ocean breeze. Along the jetty extending out to the Le Havre Lighthouse, what appeared to be a thousand well-wishers waved with handkerchiefs their good-byes. A harbor canon was fired as a final salute to the ship's departure. Moreover, as France receded in the distance, swallows followed the L'Amerique. The sailors aboard considered this a good omen.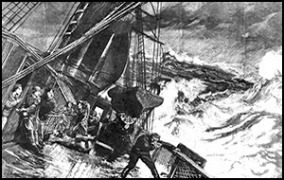 Yet the crossing was not to be smooth. As the L'Amerique plowed through ocean swells Juglaris became seasick and remained so for the next six days. For nourishment he could tolerate little more than broth. In addition, fresh misfortune struck the L'Amerique: it was soon caught in another calamitous storm which broke one of its masts. A passenger died of shock. Juglaris never forgot the "sad picture" of her lonely burial at sea. Later, passengers spotted the remains of an unidentified shipwreck with debris, drowned animals, and an empty cradle bobbing in the waves. If any further reminder was needed, that sobering sight graphically underscored the peril of every ocean crossing.
Fortunately, the ocean quieted down and Juglaris and others gained sea legs. The atmosphere aboard ship soon turned merrier. Indeed, Jugalris was struck by how quickly everyone became "like old friends." He adds: "We say hello, we talk, we smile, we sing, we dance and many court the loveliest passengers." While romance blossomed on deck for some passengers, most husbands and fathers, Juglaris notes, socialized in their cabins playing cards, dominoes, chess, or checkers, gambling to entertain themselves. All told, the transatlantic crossing aboard the L'Amerique took twelve days instead of the more usual seven or eight. Juglaris was relieved when New York's Long Island first came into sight. That night the L'Amerique docked. The next day, on August 19, 1880 at 6 a.m., Juglaris disembarked, stepping off the ship into a new world.