Franklin Public Library Murals and Friezes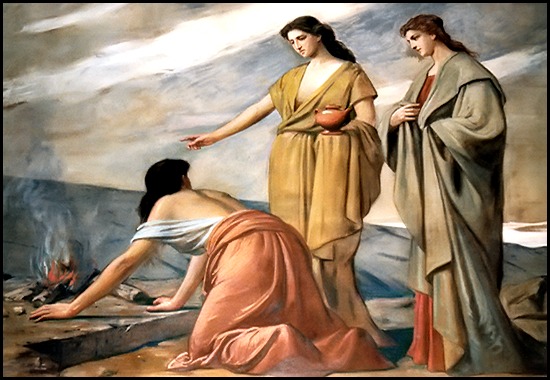 During the last few years of Tommaso Juglaris's stay in Boston, plans had been underway for a new Boston Public Library in Copley Square, not far from where Juglaris lived and worked every day.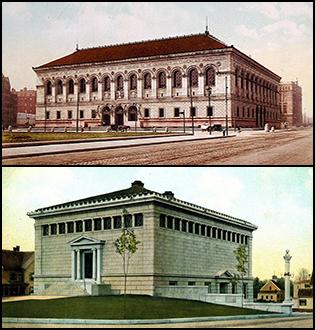 Designed by Charles Follen McKim and Stanford White, the library's walls--in keeping with the growing American interest in the decorative arts and the desire to make the building the "Assisi of American art"--were to be decorated with murals. Yet Juglaris was never approached about the project, nor was there any opportunity to compete for the plum assignment. Instead, the famous French muralist Pierre Puvis de Chavannes was privately invited by the library's backers to paint the mural, The Muses of Inspiration, while conversations were pursued with James McNeil Whistler and other American artists. Subsequently, American expatriate John Singer Sargent was selected to paint a much-touted mural cycle, The Triumph of Religion (1890-1919), which was actually a celebration of Protestant rationalism and individualism. A second American expatriate artist, Edwin Abbey, was also recruited. He chose as his subject The Quest for the Holy Grail, inspired by Mark Twain's contemporaneous novel, A Connecticut Yankee in King Arthur's Court.
The situation could only have been frustrating for Juglaris, who, besides being well-known as an artist and teacher across Boston, had more experience as a muralist than the artists who were chosen, aside from Puvis de Chavannes. It may have been one more factor in Juglaris's decision to end his decade-long stay in the United States.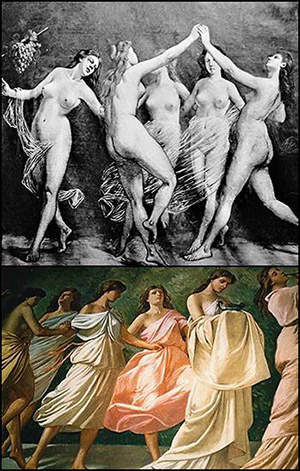 As it turned out, ten years later Juglaris had another chance to display his considerable talents as a muralist on American shores. In 1901, Juglaris's former student and friend Henry Hammond Gallison persuaded the wealthy daughters of a woolen mill owner in Franklin, Massachusetts to memorialize their late parents, Joseph and Emily Ray, with the construction of a new building for the oldest public library in America. Located directly across from the campus of historic Dean College, the "Ray Memorial" was intended to authentically replicate an ancient Greek temple. As part of the interior design and decoration, Gallison not only proposed to contribute large paintings of his own but also encouraged the Ray sisters to engage Juglaris to provide murals for the new library's Reading Room. Later, Juglaris's commission was expanded to include friezes for the library's grand entrance Memorial Hall. The Ray Memorial commission offered Juglaris a magnificent opportunity to prove his skill as a muralist. He was determined to use it well, particularly in light of his exclusion from the Boston Public Library commissions.
Spending winters in Turin and summers in Franklin, Providence and Gallison's studio at the art colony in Annisquam, Massachusetts, Juglaris executed a vast, 240 foot-long, twelve-foot-high mural cycle on canvas entitled Grecian Festival. It presents a predawn procession of priests, government officials, musicians, dancers, and citizens en route to a temple beyond the city gates in order to pay homage and offer sacrifice to their civic deity. Juglaris also completed five friezes for the Memorial Hall representing Hours of Labor, Hours of Sleep, Hours of Pleasure, Morning, and Evening.
All of the themes were topical. The Grecian Festival panorama was in keeping with a pastoral, arcadian emphasis in turn-of-the-century art, as well as popular concern for civic duty and communal responsibility subsequently embodied in the high ideals of America's "City Beautiful" and Progressive Movements. The friezes devoted to The Hours underscore the importance of balance between work and leisure, a simultaneous concern of the American labor movement, determined to secure an eight-hour work day.
Archival photographs of early studies or versions of Juglaris's Grecian Festival project as very publicly exhibited at the Massachusetts Institute in Back Bay Boston reveal considerably more full frontal and upper torso nudity than is to be seen in the Franklin Public Libary's final Reading Room murals. Local legend tells that Juglaris was compelled to revise his original mural scheme, reducing the amount of nudity displayed in order to please his patrons and avoid undue public controversy in a town not so far removed from a sedate and still very prudish Boston. Installed high on the walls of the library's grand entrance and Memorial Hall, however, Juglaris's Hours friezes appear to have been entirely preserved in their original iteration, rich in color, design, and depicted motion.