French and English Commissions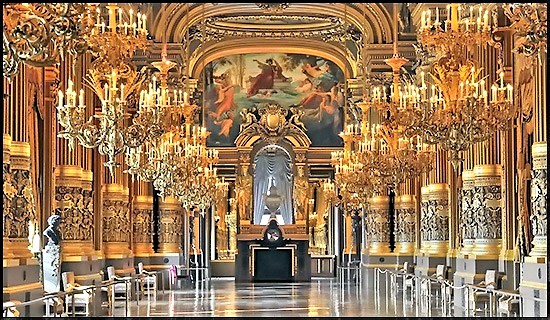 Departing Italy, Juglaris sought a more independent and rewarding career as an artist in France. After he landed in Paris, he found work as a scene painter for the city's theaters and then as a designer in the fields of ceramics and lithography. Ultimately, however, Juglaris preferred the fine arts and mural painting.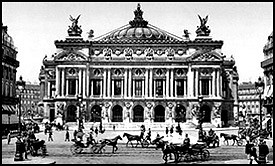 As a part of Thomas Couture's circle at Villiers-le-Bel in Normandy, Juglaris painted a frieze and other decorations for the home of the French master artist, receiving instruction in return. Thereafter, Juglaris was hired for decorative work on various Paris buildings, most notably, the Paris Opera House, known as the Palais Garnier, and the Theatre du Chatelet.
Although construction of the magnificent Palais Garnier began in 1861 and the building was inaugurated with its first operatic performance on January 5, 1875, decoration was still underway throughout the decade that Juglaris lived in Paris. Painters such as Paul Baudry, Felix Barrias, Gustav Boulanger, Alfred de Curzon, Eugene Lenepveu, and Auguste Pils were commissioned for major decorative work. However, an ensemble of other, lesser-known artists, including Juglaris, also brought their talents to the lavish embellishment of the building. As reflected by its mention in his subsequent resume, Juglaris took pride in his own ceiling decoration for the Palais Garnier. He later included a sketch of his executed work in the May 1881 Boston exhibition he shared with fellow artist John Dunsmore. On that occasion a Boston art critic remarked that "the ceiling designed for the Grand Opera House in Paris is one of marvelous beauty."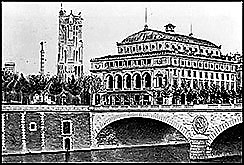 Similarly, Juglaris was called upon to help decorate the Theatre du Chatelet. Built in 1860-62 on the Place du Chatelet along the River Seine, the Palladian-style theater was to become famous for its production of Jules Verne's Around the World in Eighty Days, which was intermittently staged from 1876 to 1940. Here, once again, Juglaris painted at least one ceiling. His preparatory drawings from the Theatre du Chatelet were also exhibited in Boston in 1881.
While still living in Paris, Juglaris's talents additionally took him across the English Channel where he won a competition to decorate a newly-constructed Civic Theater at the Mechanics Institute in Barnsley, England, north of Leeds. During the five month assignment, Juglaris battled both cold temperatures which froze his paints and the wariness of local residents who were not sure that he could satisfy them. But he overcame every challenge and was soon feted by Barnsley residents who liked what they saw.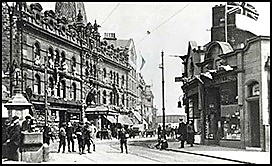 In his memoir Juglaris recounts painting the ceiling of the Civic Theater with the "usual mythological subject"--the "genius who carries the palm to tragedy and comedy with the other muses in the distance." His next largest undertaking for the theater walls was a frieze featuring eight life-sized allegorical figures "with putti carrying their attributes." Added to this was a pediment for the area above the stage with "larger than life" putti holding up the city's coat of arms. For the stage curtain Juglaris painted dancing nymphs in a woods, also life-sized. A description in the Barnsley Chronicle for January 26, 1878 gives some flavor of Juglaris's further work outfitting the "Italian style" theater with stage scenes for future performances: "The scenery has been painted by T. Juglaris, a talented Parisian artist, and comprises the following: (1) Street scene: view of Verona; (2) interior of hall; (3) interior of cottage, with extension for prison; (4) interior of drawing room from the Torlonia palace at Rome; (5) extension representing Cariaterdes in anteroom of same; (6) landscape, with extension of wooded scenery; (7) curtain drop scene: imitation velvet curtains with golden tassels."
Juglaris amazed his patrons by painting all of his canvases on the ground rather than perpendicularly in the fashion customary for English artists. Many residents came to watch Juglaris at work. As he remarks with a sense of humor, "For them I was a strange and curious beast." At a "grand ball" held at the theater to celebrate the completion of his commission Juglaris was honored by a performance of the "Royal March" for the House of Savoy and the "Anthem of Garibaldi." Juglaris never forgot that joyous night: "I danced and spent a truly happy night and in the midst of truly superior people."