Michigan's Capitol Muses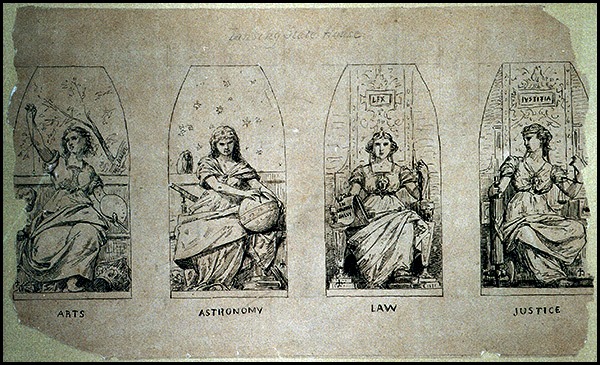 In 1886 Juglaris had an opportunity to move beyond small friezes to display the magnitude of his gifts as a muralist. Perhaps thanks to stained glass manufacturer Donald MacDonald, who had already completed work at a Detroit church attended by one of Michigan's governors, Juglaris was alerted to a competition for the decoration of the rotunda of the Michigan State Capitol in Lansing. The announced project coincided with planning for Michigan's celebration of the fiftieth anniversary of its admission to the American Union.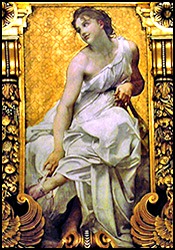 Since figural drawing was Juglaris's great forte, it was perhaps inevitable that his Michigan Capitol proposal would be dominated by human figures. However, Juglaris's choice of subject matter may also have been inspired or influenced by the work of two French artists at the Palais Garnier Opera House where he had recently designed and painted a ceiling all his own.
For the Palais Garnier's ornate Grand Foyer, the acclaimed Paul Baudry had painted, among other gilded scenes, the nine muses of classical mythology—Calliope, Clio, Euterpe, Melpomene, Terpischore, Erato, Polyhymnia, Urania, and Thalia. Each muse, a daughter of Zeus, was said to be an inspiration for a different art. Baudry's muses are lithe and elegant—well-suited to the style of late nineteenth-century Belle Epoque Paris. In the Palais Garnier's auditorium, another artist, Jules-Eugene Lenepveu, completed a ceiling mural entitled Les Muses and Les Heures du Jour et de la Nuit (The Muses and the Hours of Day and Night). The ceiling mural presented a swirl of movement and activity as day swiftly becomes night, only to become day again.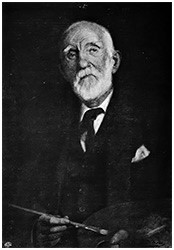 Taking artistic liberty with the mythological traditions of ancient Greece, Juglaris's own submission to a Lansing committee consisted of eight muses, each representing a field of endeavor important to Michigan's progress as a state. A preliminary sketch of four of them—which Juglaris labeled Arts, Astronomy, Law, and Justice—survives among Juglaris's papers recently discovered in northern Italy. However, Juglaris's eight muses were later adapted to more broadly represent Fine Arts and Architecture, Agriculture, Philosophy, Science, Law and Government, Industry, Commerce, and Education. Juglaris's proposal won, trumping a much more elaborate decorative scheme submitted with some fanfare by one of Detroit's foremost artists, Robert Hopkin, who had previous mural work to his credit at the Canadian Parliament Building in Ottawa and the New Orleans Cotton Exchange.
Juglaris painted his eight commissioned muses in his Boston studio during spring 1886, working rapidly in the face of a deadline. When finished, the canvasses for all eight muses were rolled up and shipped to Michigan for installation in the Capitol rotunda.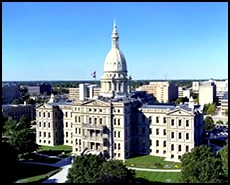 Juglaris's contract came under the auspices of William Wright of Detroit, whose firm was responsible for the overall decorative painting of the Capitol. Although a Lansing newspaper announced that the rotunda commission had been awarded to "the best artist of his kind," Juglaris was never publicly acknowledged. In fact, while Juglaris was still working on the Michigan Capitol project the entire nation was being swept by labor turmoil and worker demands for higher wages and a shorter working day. Labor historians remember this tumult as "The Great Upheaval." In this politically-charged atmosphere, Chicago's so-called "Haymarket Square Riot" broke out on May 4, 1886. Breaking up a demonstration by foreign-born anarchists, seven policemen were killed by a blast of dynamite. Another sixty policemen were wounded. National hysteria ensued with fears openly expressed about the patriotism and loyalty of immigrants. The following winter, amid lobbying by native-born painters, the Michigan legislature passed a law prohibiting non-citizens, unless they had professed an intention to become an American citizen, from working on government buildings. This was part of a national trend. In Michigan, it remained impolitic to mention Juglaris, who had retained his Italian citizenship. Consequently, his name was lost for over a century.
In time Juglaris's work was mistakenly attributed to a Michigan-born artist, Lewis Ives. Juglaris may have unwittingly contributed to this conspiracy of silence. Rather than signing the Capitol muses with his full surname, he marked them with an enigmatic "TJ" monogram which later generations had difficulty deciphering. Juglaris's only consolation—noted in his memoir—was that he was paid well and on time for his Michigan Capitol commission.
Juglaris's Michigan State Capitol Muses