Boston Art Club
"The work done in Boston during the years 1882-5 by Tommaso Juglaris is certainly one of the finest and interesting displays of art work that has been seen in Boston…. It seems almost impossible that Mr. Juglaris could accomplish so much during the limited time mentioned."—The Boston Art Club (Undated review, Juglaris Album).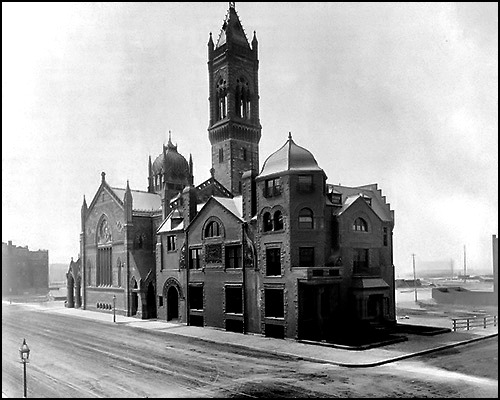 With the profits in hand from stained glass commissions in Boston and elsewhere, Juglaris was at liberty to pursue other even more rewarding art endeavors. Beginning in 1881, he joined the Boston Art Club, one of the city's important, newly-forming cultural institutions. He became an active member. The club became a gateway for Juglaris into Boston's art milieu. Many Boston Art Club members spoke French; a few were even conversant in Italian, making it easier for Juglaris to communicate and feel at home.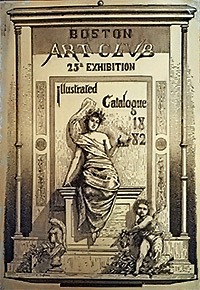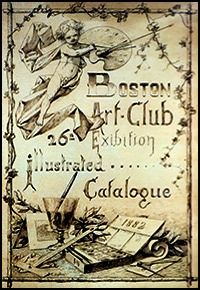 At a Boston Art Club gathering Juglaris met American Art Review editor Sylvester Koehler. The respected and influential Koehler, who had previously experienced his own conflict with Prang, called upon Juglaris for numerous magazine illustrations. This added to Juglaris's income, as well as recognition of his talents.
Juglaris chose the Boston Art Club as the venue for two major exhibitions of his work. The first, mounted in 1881, was held jointly with his friend and fellow Couture disciple, John Ward Dunsmore. The second was a solo event in 1885 in the gallery of the Boston's Art Club's new building on Newberry Street. Both exhibitions received considerable praise from Boston art critics who, for the most part, welcomed Juglaris's contributions to the city's art scene, broadening its perspective.
Meanwhile, Juglaris made himself useful to the Boston Art Club by designing several of its exhibition catalogue covers for 1881, 1882, and 1884. Bringing to bear his considerable experience with art schools, Juglaris also served as a consultant on the proper layout and construction of the amphitheater for the club's new Back Bay building just a short distance from Copley Square. Here artists could draw from living models, including nudes. However, the pinnacle of Juglaris's association with the Boston Club was his selection and appointment as teacher-in-residence where he had an opportunity to instruct hundreds of young Boston artists eager to learn European painting techniques and traditions. During Juglaris's tenure as teacher, the Boston Art Club remained one of the city's premier gathering places for artists.