Decorating Gilded Mansions
"[T]wo architects came to my studio and asked me to do some sketches for them for a large decoration to be done on canvas for a house under construction in Newton. It was a frieze of figures: they wanted especially children, not nude, between four and ten years old, in historical dress if possible."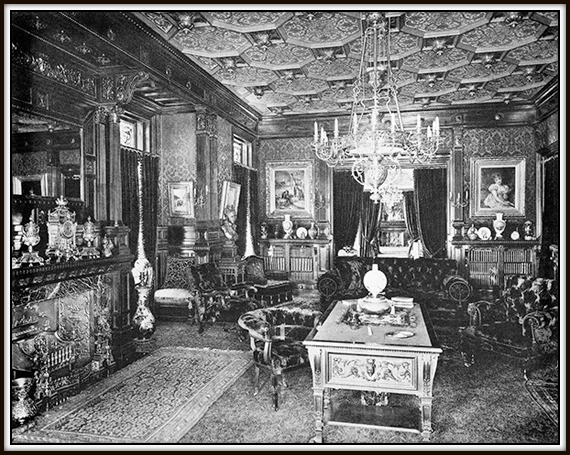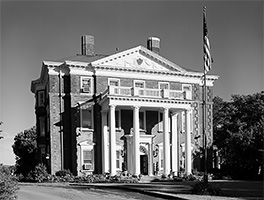 After settling into his new life in Boston as a teacher, painter, and stained glass designer, Tommaso Juglaris continued to have hopes of obtaining work as a muralist. Trends in late nineteenth-century American life seemed favorable. A rather reserved or restrained American aesthetic, informed by the nation's colonial and Puritan heritage, was giving way to a more exuberant visual style, particularly in the decoration of public and private buildings. The murals respectively executed by New York artist John La Farge at Trinity Church in Boston's Copley Square (1873) and by Boston artist William Morris Hunt at the New York State Capitol (1878) had piqued interest in mural painting, generally. Meanwhile, there was a building boom going on and Gilded Age mansions, intended to conspicuously display the wealth of their owners, needed decoration. Why not grand murals or at very least friezes to decoratively rim the upper walls of a room? The overall situation seemed made to order for Juglaris. With his experience decorating the churches and palaces of the Old World, he was an excellent candidate to fill any domestic demand for murals and friezes in Boston.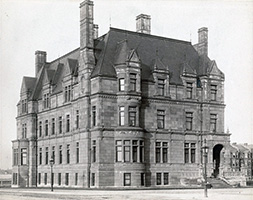 Juglaris's first frieze commission was for the Prescott Mansion in Newton, Massachusetts (1882), across from the present-day campus of Boston College. This was followed by a similar commission at the Barnes (today Barnes-Hiscock) Mansion in Syracuse, New York, where Donald MacDonald had a stained glass commission of his own. Shortly thereafter, in 1883, Juglaris won—over fourteen other contestants—a competition to decorate the Music Room of Massachusetts Governor Oliver Ames's new Back Bay home, at that time the most opulent residence in Boston. Juglaris also painted friezes for the nearby Commonwealth Avenue residence of Dr. Homer M. Jernegan. In honor of his client's medical profession, Juglaris painted cherubs preparing medicines. Other commissions for murals or friezes in Boston residences, as later noted by the Boston Sunday Post in April 1908, came from the Martin Brimmer family, the Hollingsworth family, who owned a paper mill, and the Schirmer family, founders and proprietors of the Boston Music Company, a publishing house.
"Mr. Thomas Juglaris," wrote one reviewer upon seeing the sketches for the Ames mansion, "has no superior in this country as a decorative designer where the human figure is concerned." Juglaris was further touted as an artist "whose genius and power as a decorative artist rivals that of Jules Lefebvre," who was another acclaimed Paris Salon painter well-known to Americans. Equally flattering, the Boston Evening Transcript, went so far as to say that Juglaris's fine decorative cartoons for frieze and mural work showed "what poor [William Morris] Hunt tried to do."
In size and subject matter, none of Juglaris's friezes in Boston and Syracuse were substantial. America's taste for more expansive mural work, whether in private residences or public buildings, was just beginning. Nevertheless, the quality of Juglaris's work helped set a standard for what could and would be done in the future and allowed him to begin spreading his wings as the muralist he always wanted to be.